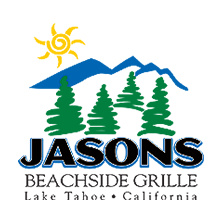 Waterfront Restaurant in North Lake Tahoe
Jason's Beachside Grille located in King's Beach, North Lake Tahoe, is a family friendly American restaurant with a woodsy interior & optional outdoor lakeside seating.
Live music in the summer every Friday, Saturday and Sunday. 
Jason's Beachside Grille offers spectacular views on our scenic lakefront deck. Savor American classics like prime rib, steaks, teriyaki chicken, baby back ribs, salad bar and more. Full bar and kids menu.Enjoy live music and appetizers while you wait.
The Sand Bar offers seasonable lake-view dining, food & cocktails, outdoor barbecues, and live entertainment.  Come visit us this summer.  The Sand Bar is located behind Jason's Beachside Grille, by Lake Tahoe in Kings Beach.